Chelsea were the victors from the clash with Manchester United in the quarter finals of the FA Cup on Monday night.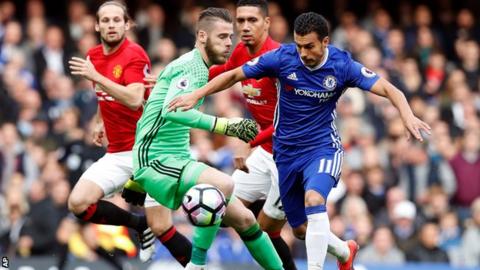 United played without their star striker Zlatan Ibrahimovic – who is serving a three-game suspension for his display in the draw against Bournemouth. Marcus Rashford was the star for the night but N'Golo Kante scored the goal that sent Chelsea to the next stage against Tottenham.
Managers Jose Mourinho and Antonio Conte were at each other's neck during the game, with the fourth official in the middle. Mourinho was angered that the players of the opposition were falling to the ground too easily. The fans of the club he used to coach were against him on the night. When Paul Pogba and Eden Hazard clashed, the Belgian star fell to the ground, the fans slammed Mourinho as he protested.
David De Gea was excellent on the night to deny Chelsea goalscoring chances. He stopped Hazard's attempt early in the game even with the ball coming off Matteo Damian. Real Madrid, who would be able to compete in the transfer market from this season, would surely have been impressed with the display. He could not stop Kante's effort. Continue reading MANCHESTER UNITED LOSE 1-0 TO CHELSEA